Preparation of study documentation for the modernization of the Knin – Split section of the M604 Oštarije – Knin – Split railway line, M606 Knin – Zadar and M607 Perković – Šibenik railway lines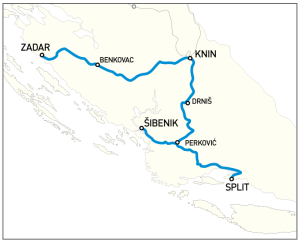 The Knin – Split section and the Knin – Zadar and Perković – Šibenik lines are jointly referred to as Dalmatian railway lines. These lines are single-track for international traffic, and they are 103 km (Knin – Split), 95 km (Knin – Zadar) and 23 km (Perković – Šibenik) long.
Dalmatian lines are very important at the level of the Republic of Croatia because they connect two large geographical units – central and southern Croatia. They also have international significance because the continuation of the Oštarije – Knin section (the so-called Like line) indirectly connects to RH2 international corridor, which is part of the Mediterranean Trans-European Transport Network Corridor.
In order to connect the wider area of ​​Knin, Split, Šibenik and Zadar within this project, variant path conceptual design, project feasibility studies, financial and economic analysis and environmental impact studies will be developed.
All developed variant solutions must also include technical solutions of connecting to the existing rail network and the future planned rail network. The prepared study documentation will provide a basis for launching a public procurement procedure to prepare a preliminary design and other documentation required for obtaining location permits, and further for resolving property and legal relations, drafting a main design and obtaining building permits for works and supervision services.
The Grant agreement for the development of study documentation with a total of HRK 19,248,200.25 and eligible costs of HRK 15,608,477.75, of which the EU co-finances HRK 13,267,206.08, was signed on December 17, 2018, by the Ministry of the Sea, Transport and Infrastructure, the Central Finance and Contracting Agency for EU Programs and Projects (SAFU) and HŽ Infrastruktura. The expected total duration of the project is 35 months after signing the contract. The project is co-financed by the European Union from the Operational Program Competitiveness and Cohesion from the Cohesion Fund (www.strukturnifondovi.hr) with 85 per cent of eligible costs and by the Government of the Republic of Croatia with 15 per cent.
For more project information please contact: korporativne.komunikacije@hzinfra.hr.